The examples of student work on display in these four galleries are just a fraction of what may be found in the downloadable collections available on our Online Catalog.
The Elements of the Waldorf Curriculum
is the world's largest archive of student work from Grades 1 to 8. To learn more,
click here.
Galleries of Work by Waldorf Students
Grades Five through Eight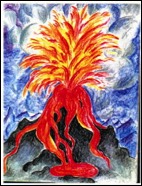 Science in the Waldorf Grade School

This slideshow presents a rich survey of the natural sciences and laboratory sciences curriculum of Grades Four through Eight in the Waldorf school. Hyperlinks make it possible to experience the complex interweaving of the various subjects as the student moves from grade to grade. Eugene Schwartz's insightful commentary points to the relationship of the sciences to every other aspect of the Waldorf student's experience. NOTE: This presentation is very big — it contains over 175 slides, and many of those slides have several layers of imagery. For this reason it is available only as a downloadable PowerPoint file. Once you have downloaded it, it can be played on your computer's PowerPoint software (if you have a PC), or it can be opened as a KeyNote slideshow (on a Mac). Some of the animations and transitions will not be fully functional in Keynote.

Click here to view the Slideshow
Go to the Grades 1-4 Student Work Galleries
Help Us Keep These Resources Free

Become a Member of MillennialChild.com. Members help provide the software and Internet services that make these valuable Waldorf resources available to tens of thousands of people annually — and keep MillennialChild.com free of advertising.
Annual Members receive a 30% discount on CD Downloads and one free phone consultation a year with Eugene Schwartz.
Click here for more information.