The examples of student work on display in these four galleries are just a fraction of what may be found in the downloadable collections available on our Online Catalog.
The Elements of the Waldorf Curriculum
is the world's largest archive of student work from Grades 1 to 8. To learn more,
click here.
Galleries of Work by Waldorf Students
Grades One through Four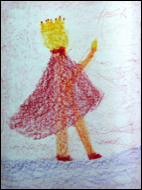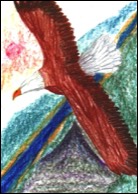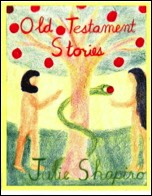 Viewing the Grades 1-4 Galleries: A Video Guide
Form Drawing is one of the core subjects of first five grades in the Waldorf school setting. As the child gains mastery over the deceptively simple polarity of straight and curved lines, her eye gains mastery over her hand. Students grow confident in their relationship to space and laterality, which in turn supports subjects as varied as reading and writing, geometry and gymnastics. It is important to realize that all of these drawings are created freehand by 6-7 year-olds.

Click here to view the Gallery.

Writing & Reading: Fairy Tales

The Fairy Tale is at once the basis of the first grader's introduction to literature and to writing. Elements from fairy tales allow the child to see the metamorphosis of an object or being into a letter of the alphabet. Along with Form Drawing, this approach makes writing a joyful process of discovery.

Click here to view the Gallery.

The world of number is brought to first graders through rhythmic games and recitation, as well as narratives in which the Four Operations are personified. This multifaceted approach brings arithmetic to life.

Click here to view the Gallery.
The Second Grader continues work with straight and curved lines, symmetry, circles, and running forms. New elements that are introduced this year include a greater emphasis on the horizontal plane, the ability to work with the interplay of the straight and the curved line, forms that metamorphose, and more challenging geometrical constructions.

Click here to view the Gallery.

Language Arts: Saints & Fables

Two types of stories are told to the Second Grader. Stories of Saints and "Legends of Good People" speak to one side of the 8 year-old, while the mischievous and clever creatures who populate the stories in Aesop's Fables speak to quite another side. Second graders are learning how to write and read lower case letters, and they will also receive their first readers this year.

Click here to view the Gallery.

The first part of Second Grade is devoted to consolidating the children's skills in counting, reciting times tables, and doing simple computations with single-digit numbers. The rest of Grade Two is spent learning about place value, identifying numbers into the ten thousands, and understanding the basics of carrying and borrowing.

Click here to view the Gallery.
Science in the Waldorf Grade School

This slideshow presents a rich survey of the natural sciences and laboratory sciences curriculum of Grades Four through Eight in the Waldorf school. Hyperlinks make it possible to experience the complex interweaving of the various subjects as the student moves from grade to grade. Eugene Schwartz's insightful commentary points to the relationship of the sciences to every other aspect of the Waldorf student's experience. NOTE: This presentation is very big — it contains over 175 slides, and many of those slides have several layers of imagery. For this reason it is available only as a downloadable PowerPoint file. Once you have downloaded it, it can be played on your computer's PowerPoint software (if you have a PC), or it can be opened as a KeyNote slideshow (on a Mac). Some of the animations and transitions will not be fully functional in Keynote.

Click here to download the PowerPoint Slideshow.
Go to the Grades 5-8 Student Work Galleries

Click here

to visit our extensive galleries of work by Waldorf students in Grades Five through Eight.
Help Us Keep These Resources Free

Become a Member of MillennialChild.com. Members help provide the software and Internet services that make these valuable Waldorf resources available to tens of thousands of people annually — and keep MillennialChild.com free of advertising.
Annual Members receive a 30% discount on CD Downloads and one free phone consultation a year with Eugene Schwartz.
Click here for more information.